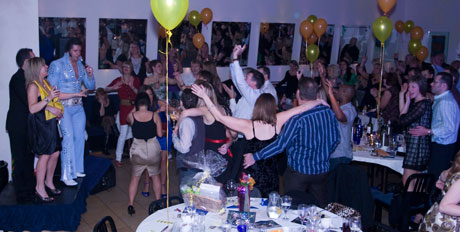 'Oh what a night!!'
The Elvis night at Pier 39 went amazingly well with everyone having a fantastic evening as well as raising £2,664 on the night (with donations the figure has risen to over £3000) which was beyond our wildest dreams.
The atmosphere was just perfect and everyone looked so glam! Pier 39 did a wonderful job and the food and service was brilliant. Everyone was so generous when we were selling the raffle tickets and the beautiful Christmas Cake even got auctioned by a prize winner (thanks Ian) and was sold for £115 to our very generous buyer.
Kevin Paul was a legend as Elvis and got everyone out of their seats and made Warwick's Gran the happiest woman alive when he sang to her and gave her a scarf! It was a night that we didn't want to end and we cannot thank everyone who came and donated or organised raffle prizes enough. Thank you for caring so much and for making our Elvis night such a success.
Any suggestions if we do another tribute night are gratefully accepted – Take That, Kylie, George Michael or Elvis again! Let us know!!
The money raised will go towards professional development for us and our team and has also let us think that it would be possible to raise the £10,000 needed to take Henry to America for a 1 week's intensive program. The level of input and the skills we would develop would, we believe ,really enable us to accelerate the effectiveness of our program – watch this space and thank you again x