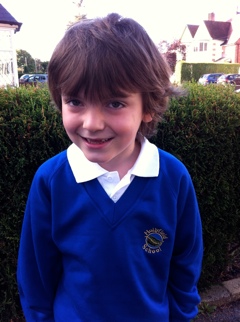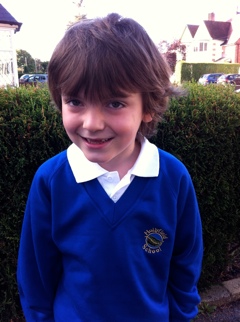 This is a lovely note from Nicky (Mrs Towers!) about Henry's first morning at school. thought that you would all like to hear how he got on.
Hi Penny & Warwick,
I wish I'd been kitted up with some sort of spy cam so you could have all been there this morning and seen how amazing Henry was on his first official morning at school.
In one word – wow!
I just about managed to not well up after seeing you Penny but Henry was brilliant.
He was a little bit bit shy to begin with but was grinning at all the children. They had all remembered him and were coming up and saying good morning. He was given the thumbs up by various children and returned it back again.
They were allowed to sit where ever they wanted at the tables on entering the classroom, a tall order but he chose straight away and the friend he really likes immediately sat next to him.
He answered his name clearly for the register and sat and listened really well on the mat.
He sat through assembly and joined in with a song. He didnt know the words but was mouthing what he thought it was.
Then breaktime. He had a great big smile on his face running round chasing his friends and was proving to be very popular. Didnt need me there at all but was great to observe.
Back in the classroom they had to write their name on a label for their peg. He did this with beautiful writing and without another explanation from myself. He had obviously listened well on the mat.
He also had to draw his face on a circle for a birthday display and did a great job. Eyebrows and everything! His drawing was very detailed.
He put his hand up on the carpet and said when his birthday was in a nice loud voice.
He has been given his first job as register monitor and looked chuffed with that.
There was a lot of movement from the carpet to the cloakroom and back again to assign seats at table groups. He coped brilliantly with all of this. He seemed a little disappointed that his favourite friend was not assigned a seat next to him but was quite happy that he was on the same table.
All in all a fantastic,amazing start. He seemed to take to school straight away without hesitation and the children have welcomed him with open arms. You would have been very very proud of him.
Its a lovely school with lovely children and staff. I think that Henry will love it at Hollyfield.